Here's the scenario: You're at a sales appointment and the customer says "I want to put a car lift in my garage to store another vehicle and I need the door to go up as close to the ceiling as possible." They go on to ask for specific dimensions and clearances, but you're not really sure about how it will all come together. Here are a few tips I've gathered to help clarify high-lift issues.
First, let's define what high-lift is.
Simply put,
high lift is the difference between the height of the door and the bottom of the horizontal tracks
.
My "Rule of Thumb" for maximum high lift (up to 64" using 2" track) is
Headroom minus 10"
. Let's look at an example:
The door you will be installing is 8' high (96")

The total front wall height is 12' (144")

This means the headroom is 48"

The maximum high lift would be 48"-10" or 38".(The 10"deducted is the space needed for the horizontal track (2") plus the drums and end bearings).

The distance from the floor to the underside of the horizontal track would be the door height plus the high lift. In this example 96"+38"=134" (total front wall height minus 10")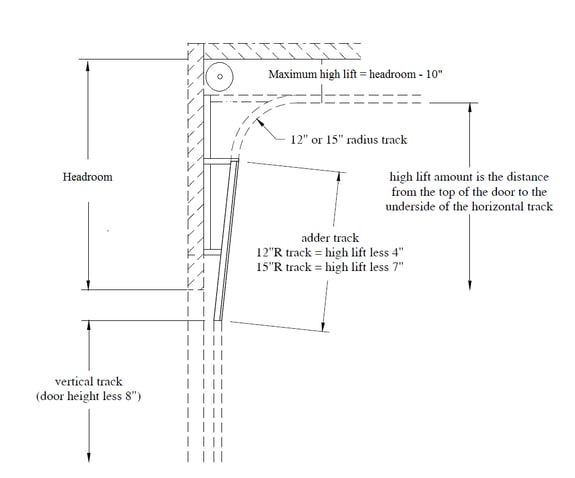 I hope this helps the next time you need to figure a high lift job. Many thanks to C.H.I Overhead Doors for the majority of the drawing.
Please feel free to download our Headroom Requirements Worksheet for your use.
If you have any tips and tricks you would like to share, feel free to email me at brian@edencoast.com. As always, we encourage your comments or suggestions in the section below. Thank you!