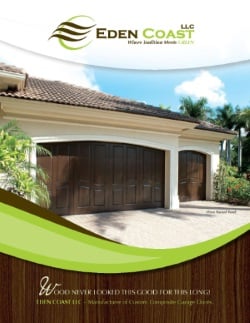 Eden Coast is proud to unveil our new catalog for 2015!
Due in part to many of the great suggestions we received from our customers for more photos and more information, we took the opportunity to add 8 new pages to our Eden Coast brochure. We added a two-page spread highlighting some beautiful stained door options as well as a page on louver doors and various paint finishes. We also clarified things a little by removing the names of the standard stain offerings. We felt that the names tended to cloud some peoples' decision on which color to choose.
Please take a minute to browse the new catalog. For those of you who have requested literature, we will begin shipping this week. Thank you for your continued support of Eden Coast products, and don't hesitate to contact us with any questions, comments or concerns.